Different types of
PROPS
• Wooden brick and footrest.
• Belt
• Ropes
• Slanting Plank
• Chair
• Stool
• Bench
• Box
• Heart Rack
• Ladder stool
• Bolster
• Pillow
• Bandage
• Weights
• Tressler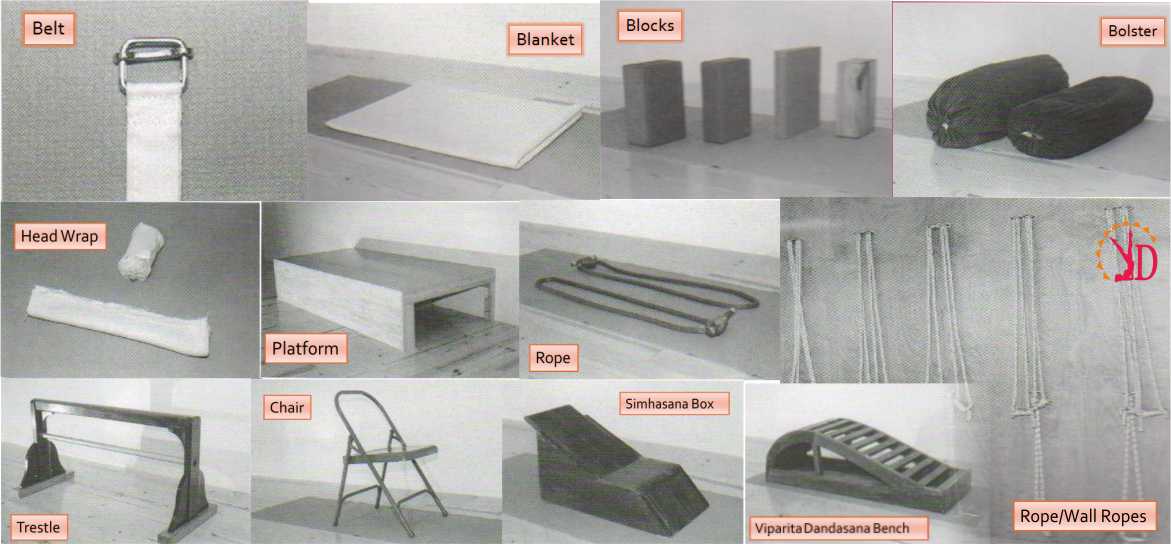 ---
What the Prop Can do ?


These varieties of yoga are only targeted on the alignment and definite movements. Yoga Props like blocks & belt are a part of our speciality. so us to provide compansation for ailments.
These Yoga props help to do the poses easily.
• Help you learn the skill involved in sustaining alignment.
• Take unnecessary struggle out so you cultivate more of a relaxed mind.
• Make a pose more accessible.
• Prevent injuries and help old injuries to heal.
• Create space in the spine and joint stability.
• Achieve a deeper release of tension as you learn to be in a pose for longer with greater comfort.
• Promote balance by encouraging weak parts to strengthen and less flexible areas to lengthen.
---


Due to its attention to details and the flexible alteration of poses, these sorts of yoga is typically a good kind of exercising for people with back trouble or neck stiffness, as they happen to be likely to take advantage of the random adjustment to the poses, Practicing these varieties of yoga will give you a good insight on the classics of yoga poses so that whatever other style you practice, you'll have the basics & advance practice in Iyengar yoga in Yoadarshan Classes.
Popular
Classes


About
Yoga
IT IS ALSO A PREVENTIVE SCIENCE.
YOGA IS NOW CONSIDERED AN ALTERNATIVE TO THE ALLOPATHIC FORM OF MEDICINE.
DON'T YOU THINK YOGA SHOULD BECOME A FRONTLINE THERAPY FOR CERTAIN DISEASES.